History of Escape Rooms and Their Mysteries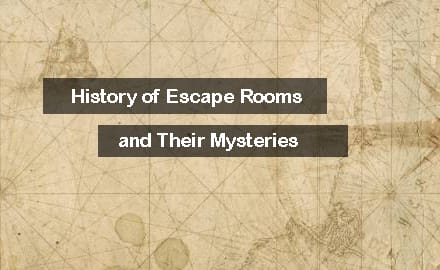 The first escape room in real life came from the imagination of Takao Kato. It seemed like the natural evolution of the digital concepts that encouraged players in video games or text-based adventures to do the same.
Kato said, "I thought I could create my own adventure story and invite people to be part of it." When someone told him they were hooked on online escape games, he decided to make one.
At first, escape the room game concepts were installed in Japanese clubs and bars. As the popularity of this concept grew, businesses began to build permanent locations. These games and adventures finally reached the United States around 2012, starting in cities like Seattle and St. Louis.
You can now find escape rooms across the United States and worldwide.
Why Have Players Embraced the Concept of Escape Rooms?
The most popular video games in the 1990s and 2000s gave players an immersive experience. When the escape situations became part of that dynamic, it became an experiential opportunity for everyone to feel like they were included in the action.
Escape rooms in real life fit into this dynamic. Here's how.
Instead of watching an avatar or character on a screen enact scenarios based on commands, you become the story's main character.
When people can be the hero of their adventure, the different plot twists that an escape room offers become immeasurably fun.
Most games take about 60 minutes to complete, and there are options suitable for the entire family. Instead of spending a day inside playing video games, escape rooms give you the chance to have fun together while doing something you love.
At Boxroom Escape Games, you can become part of Merlin's Wizarding Academy, explore our Haunted Pirate Shipwreck, or participate in Operation Saving Hollywood.
Escape Rooms Adapted to the Pandemic in 2020
As businesses fought for survival in 2020, escape room operators looked for different ways to evolve their concept. Their ingenuity led to the creation of online and virtual room escapes to try.
These remote adventures modified the in-person escape rooms into an online adventure where players could experience fun times from the safety of their homes. It brought this idea full circle, allowing players to have an experiential opportunity while engaging socially with others as they solve puzzles and explore mysteries.
Once the pandemic restrictions lessened, in-person games with social distancing modifications became a priority. Families and small groups of tested friends could play together as businesses stepped up their cleaning efforts after each adventure.
What is next for live escape rooms?
Our industry is unique because consumers drive it. People want different mysteries or puzzles to solve, so that's what we offer.
You might find a local escape room offering a murder mystery on a steamboat, a detective story in the future, or even something that feels stolen from current events.
One thing is for sure. Takagi was right – people are hooked on escape games! If you've never experienced one yourself, now is the perfect time to choose your own adventure.