How to Choose the Perfect Escape Room Game Near You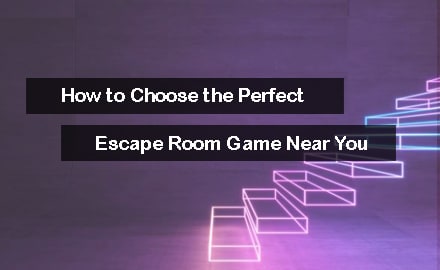 With numerous escape room options available, choosing the right one near you can enhance your experience and ensure an unforgettable adventure. In this blog post, we will guide you through the process of selecting the perfect escape room game near you, taking into account various factors that will contribute to a memorable and enjoyable experience.
1. Determine the Theme:
Escape rooms come in a wide range of themes, from horror and mystery to adventure and fantasy. Consider your interests and preferences when selecting a theme. Are you drawn to solving crimes or exploring ancient ruins? Identifying a theme that captivates your imagination will make the experience more engaging and enjoyable.
2. Assess the Difficulty Level:
Escape rooms are designed with different difficulty levels to cater to a variety of skill sets and experience levels. Some rooms are suitable for beginners, while others offer a more challenging experience for seasoned players. Assess your group's collective experience and skill level to choose a room that provides the right balance of difficulty and enjoyment.
3. Read Reviews and Recommendations:
Before booking an escape room, take the time to read reviews and recommendations from previous players. Online platforms and social media groups dedicated to escape rooms often provide valuable insights and feedback. Consider the overall ratings, comments about the game's quality, puzzles, and customer service. Authentic reviews can help you make an informed decision.
4. Check Availability and Booking Options:
Ensure that the escape room you choose has availability on the desired date and time. Check the booking process and options available, such as group sizes, private or public bookings, and any additional services or amenities provided. Confirming these details in advance will help you plan accordingly and secure your preferred slot.
5. Consider Location and Accessibility:
Factor in the location and accessibility of the escape room. Choose a venue that is convenient to reach and has ample parking or public transportation options. If you have any accessibility requirements, check if the venue can accommodate them to ensure a comfortable experience for everyone in your group.
6. Safety Measures and COVID-19 Protocols:
In today's environment, it is essential to prioritize safety. Research the escape room's safety measures and COVID-19 protocols. Look for venues that follow guidelines from health authorities, implement proper sanitization practices, and enforce social distancing. Your well-being should always be a top consideration.
7. Value for Money:
Evaluate the cost of the escape room game in relation to the overall experience. While price alone should not be the sole determining factor, consider the value you will receive for the price paid. Take into account factors such as the game duration, the quality of puzzles and props, and the level of customer service provided. Choosing the right escape room game near you involves considering several factors to ensure a captivating and enjoyable experience. By determining the theme, assessing the difficulty level, reading reviews, checking availability, considering location and accessibility, reviewing safety measures, and evaluating the value for money, you can make an informed decision that aligns with your preferences. So, embark on an exciting adventure, solve puzzles, and create lasting memories in the perfect escape room game near you.