The Benefits Of Playing Private Escape Rooms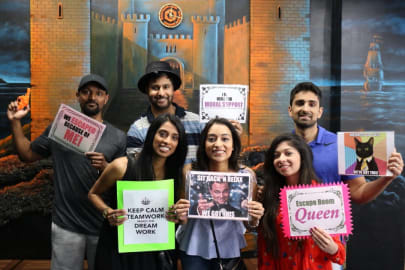 If you have ever played an escape room before you're probably familiar with the fact that a lot of companies do not offer private room experiences and you end up playing with strangers. We think that's weird.
Playing a game that requires teamwork, strategy, and cooperation with a bunch of people you don't know can be hard especially when you're locked in a room together trying to get out. Here are some of the benefits of seeking out a private escape room experience for you and your team to enjoy.
You know the people you are playing the game with. You picked the room, the day, and the time. Shouldn't you be able to pick the people you are playing with too? When playing an escape room you want to share that experience with people you trust and people you know will work well together. When playing as a team you need to be able to communicate and share with everyone to ultimately succeed which is difficult if you're shoved in a room with strangers.
You can be yourself. Your friends may be a bit goofy and your family kinda strange. We all have quirks. Playing an escape room is a fun activity and sometimes you let that quirkiness come out. When playing a public escape room you may feel the need to be reserved based on the people you are playing with and it shouldn't be that way!
It's fair game. When playing a private escape room you won't be missing any part of the experience. You can take your time working on puzzles and riddles while having the peace of mind of not being rushed by anyone outside of your hand picked group. You will also have the opportunity to get in on every aspect of the game, it's elements, and what it takes to progress through the adventure.
Boxroom Escape Games is one of the only escape rooms in South Florida that gives you the ability to play private games at no additional charge or being forced to "buy out" the room. Play with just 2 people or bring the whole crew and play with up to seven. It's your choice.
Boxroom Escape Games is South Florida's #1 choice for live escape room adventures. Book your next game with us and see what everyone is talking about!