The Best Indoor Activities in Hollywood, South Florida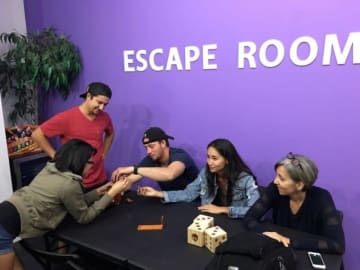 Make Your Stay In an Electrifying Event!
You've invited a friend to a day over at your apartment, where you'll watch tv and veg out. Even though you've surmised that the day won't be an exciting one and you may even wonder, "Can I find fun activities near me?" Yet, you're happy to just spend a little time with your friend. Suddenly, you and your friend are transported to a whole new world. You find yourselves trapped on a spooky, haunted shipwreck with a treasure to track down and the clock is ticking. Can you and your friend crack the pirate's code and find the gold?
Does this sound like the plot of a great action or mystery movie? If so, it doesn't have to be! Escape rooms for 2 players can feel like the incredible set of a movie where there's an exhilarating tale of adventure, thrilling mysteries, and stimulating puzzles and clues. Bring a friend to Boxroom Escape Games and you two can be front and center of an inviting story of your own making. There's no need to travel to the deepest forests of the Amazon, the far-flung areas of the most remote islands, or flying to find the highest mountain peaks of Kathmandu. In fact, if you look up "fun indoor activities near me," you'll find Boxroom Escape Games is the forerunner for adventure right in the heart of Hollywood, Florida.
The Best Indoor Activities in Hollywood
Escape rooms are the hottest, newest form of entertainment. You and your guest will be immersed in a fully interactive environment where you'll use your skills and test your knowledge. If you and your friend are natural problem solvers, enjoy a challenge, and want to make the best of your time, escape rooms are the way to go. Tons of people already agree that Boxroom Escape Games provides the best experiences for a number of people from all walks of life. Our escape rooms aren't just any old kind either, they've been specially created with love by other escape room enthusiasts! Special thought has gone into each scenario and plot, so there's no end to all the great surprises that are in store.
Boxroom Escape Games features also affordable packages for any group, and the escape rooms for 2 players are no exception. There's no head scratching or asking yourself "Are there any cheap activities near me?" or "Are they any cool activities to do near me?" You and your friend can have a great time while not breaking the bank. Boxroom Escape Games are located in the heart of Hollywood, Florida. And with hours of operations from 10:30 am until 1 am 7 days a week, you and your friend can plan an activity at a time that is most convenient for you. Street parking is available, and with our wheelchair accessible rooms, everyone can partake in any of our three themed rooms.
So why spend another day doing the same old thing? You can break the monotony by booking your experience today. Our customer service representatives are waiting to take your call. Once you've booked your adventure, you can share the joy with our vast array of gift certificates.
Hear what the buzz is all about! You don't need to ask Siri about any activities to do today near me or activities near me today. All you have to do is contact Boxroom Escape Games at (754) 800-2042 or visit us online at boxroom.com. Check us out and see why our rooms are the #1 choice for fun adventures and great memories!