Things To "Escape To" In Hollywood, FL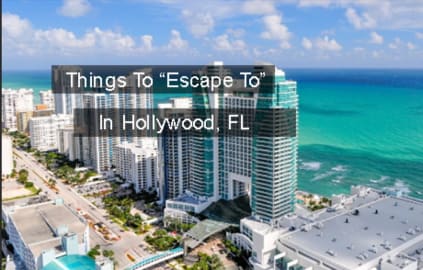 If you're planning a getaway to a warm, coastal city of splendor, but you live on the east coast and don't want to endure several exchanges in cross-country flights, there's still a Hollywood in reach. Hollywood, Florida isn't as famous as the Californian experience, but it still has plenty of great times to offer for visitors.
Be at Hollywood Beach
Florida is all about beaches. Hollywood Beach is a long, unbroken stretch of soft sand and jade-green ocean water. Wade in the shallows or take a jet ski out on a speed test. And when you want to dry off, the Beach Boardwalk has all the food and shops you need to have a full beach vacation.
Go Into Nature
Florida's outline is all about where the water meets the sand. On the interior, its about the water meeting the grass and the trees. The Everglades span a vast stretch of Florida and can be seen from many major cities. Take a walk through the West Lake Park and enjoy some time on the water with a kayak. Or check out the protected mangroves of Anne Kolb Nature Center and see how nature endures through time and tide.
Bet on Hard Rock Hollywood
Hollywood, FL takes on Las Vegas, NV in a way the CA location can't: the Seminole Hard Rock Hotel & Casino. Enjoy a fully realized resort hotel and casino complete with outdoor swimming areas and the world famous Guitar Hotel. This can be your one stop stay for a complete vacation package.
See a Show
There's no shortage of venues for concerts. One of the best places to go is the ArtsPark at Young Circle, located right in the middle of Hollywood Boulevard. The park is just a short drive or bike rental from plenty of downtown food and lounges. Take some time to plan a picnic during live entertainment in the best park in all of Hollywood.
Escape a Room
Just up the street from Young Circle is a unique, hidden place where you and your group of sharp-witted adventurers can test your teamwork skills, critical thinking, and clue gathering in a professionally curated, private escape room. At Boxroom Escape Games, these aren't simple lock-and-key hallways. Boxroom is South Florida's #1 escape room company, offering high-tech escape rooms with innovative puzzles and clever riddles. From three distinct adventures of varying difficulties. These aren't the simple lock-and-key hallway. Boxroom uses computer programs, magnetic system and other hi-technology to managed, control puzzles and at the end for the clients offers a new unforgettable higly immersive experience.
Art is Everywhere
Hollywood is home to a unique, ongoing and frequently updated wall of public art. The Downtown Hollywood Mural Project brings together talented artists to share their vision in a public display spanning a whole block of wall to wall to wall artistry. For a more curated collection, the Art and Culture Center offers a catalog of displays, from modern to classic and everything in between.