What City Has the Best Escape Room Games?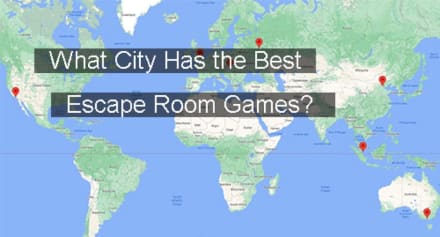 Modern escape games offer spaces where teams must discover clues, solve puzzles, and accomplish tasks within a specific time. Most options are considered cooperative, although you can find businesses offering a competitive variant in some communities.
When you want to explore escape rooms, you'll discover that almost everyone in the Americas and Europe lives within an hour or two of an adventure.
That leaves behind an important question: what city has the best escape room games?
You Need to Visit Hollywood!
No - not "that" Hollywood. You need to plan a trip to Florida.
Hollywood is tucked between Fort Lauderdale and Miami along Florida's east coast. You'll find palm trees stretching for the sky, plenty of cultural exhibitions, and some incredible escape room games.
Sure - we're a little biased because our business is situated in Hollywood, FL. When you look at the events that our competitors and we offer, add in the ratings, plus the different technical elements that are part of the experience, you'll find that taking papers and getting keys is yesterday's news.
When you choose our escape games, you'll find that a highly immersive themed environment awaits your arrival. You'll have 60 minutes to solve the puzzles, discover secret doors, and follow the story as you unravel the mystery to escape.
Many people come into our escape room games thinking that they'll outsmart the designer. Do you have what it takes to be a winner?
Why Choose Hollywood for Escape Room Games?
Escape rooms are incredibly popular in the Miami metro area. You'll find more than a dozen businesses offering different experiences, many with multiple rooms to conquer.
We pride ourselves on providing technical escape room experiences with several levels to explore, all controlled by computer software.
If you're a big escape room fan, here are some of the other destinations you can put on your itinerary to have a great time.
1. Beijing
You can't play video games during the week as a kid in China now, but at least there are some escape rooms there to enjoy. If you get to visit, you'll find hundreds of options.
2. Los Angeles
When you can't come to the East Coast, a visit to the West Coast delivers fun escape room games. You'll find dozens packed into the LA metro area, with some offering live actors for a more interactive experience.
3. Singapore
If you visit escape rooms in this city, you'll have chances to try the experience in virtual reality. It's a fun way to solve puzzles together!
4. Melbourne, Australia
You'll find more quality than quantity with this city's escape rooms. They're of high quality, with exciting themes and challenging puzzles.
5. Budapest
You can arguably find more 5-star escape rooms in this city than anywhere else. The only reason why it doesn't earn the top spot is due to the thematic similarities of the businesses. You're always trying to unlock locks.
6. Moscow
What's unique about the escape rooms here is that they focus on different fears, such as claustrophobia. It's worth the time and investment to try those adventures.
7. London
With highly-rated escape rooms that offer some complex challenges, a visit to this UK city rounds out your global journey to experience the best games out there.
Whether you visit us in Hollywood or try something near your home, you'll find that the best escape room games are an excellent time for everyone! Contact us today with any questions you might have or book your time online right now!