Will Escape Rooms Be as Popular 10 Years from Now as They Are Today?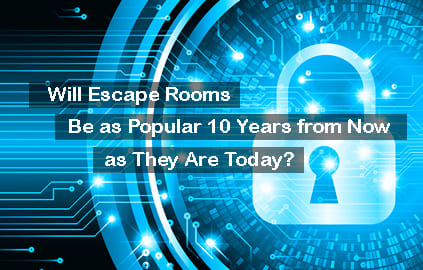 The basic idea of an escape room doesn't sound like much fun at all. You're paying a company good money to get locked in a small space.
Once you factor in the other aspects of this adventure, from the chance to show off how you can solve puzzles to the time spent with family friends, it's easy to see why it's such a popular pastime.
The escape room industry had just 22 locations in the United States in 2014. In 2021, there were 2,080 operating. Globally, over 50,000 options are available to explore.
Will escape rooms still be as popular a decade from now as they are today?
The Future Is an Unpredictable Place
Before the pandemic, the economic predictors for multiple industries pointed to substantial growth. Numerous businesses struggled to stay open after the different restrictions to prevent COVID transmission in 2020 and beyond. Escape rooms were no exception to that rule.
After experiencing consistent growth since the first escape room opened in Japan in 2007, there have been slight declines in 2020 and 2021.
The issue with an escape room is that the business idea can be a one-and-done outcome. If you've solved the puzzle once, do you want to pay to do it again? You get your picture, share some memories, and call it a day.
That's why innovation is necessary. We need escape rooms with unique themes, challenging puzzles, and more playability. The industry will get multiple visits from the same customer if they're having fun, but unable to get out within the prescribed time limit.
At Boxroom Escape Games, we want you to have a customized experience. We offer unique themes and different difficulty levels so that you can choose your own adventure. That structure provides more playability options, which we feel the industry needs.
We Operate in a Community-Based Business
Many business owners don't want to help potential competitors because it feels like you're losing money. We've found, as an industry, that being welcoming, active, and supportive increases opportunities for everyone.
We know that an escape room business isn't for everyone, but it can be quite rewarding. Watching people have fun, share a laugh, or take a proud picture after solving the puzzle means we're making positive memories that people will cherish.
That's why the escape room industry will be as popular a decade from now as it is today. Although you might see it trend downward in some parts of the world, it'll continue growing in others.
The one issue that may happen in the coming years is a consolidation of escape room businesses to larger cities. Those one-room companies in small towns already have numerous challenges to face, and a future with ongoing restrictions or limitations could create significant sustainability issues.
If you've never been to an escape room before, we hope you'll consider scheduling a visit soon! You'll find that these interactive and engaging experiences also do a fantastic job of building and testing your teamwork capabilities.